Kamailio DBTEXT Editor for dialplan table file
This tool will help you to edit or create the DB_TEXT file for the dialplan table and the Kamailio Dialplan Module. I created this for better configuration of the file, because I used a Kamailio to connect a Alcatel PBX R9.1 to the Mediation Server of OCS via SIP. So I didn't needed any Gateway like Dialogic or Audicodes.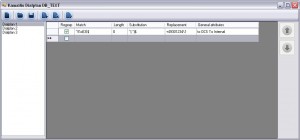 The Icons used in the App are from http://dryicons.com .
I've attached the Binary File and the Source, so it's free for use.
KamailioDialplanDBText_src.zip
KamailioDialplanDBText_bin.zip